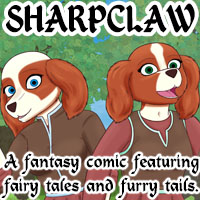 Sharpclaw
A fantasy comic featuring fairy tales and furry tails.
Themes and references include Snow White And Rose Red, Little Red Riding Hood, Rumpelstiltskin, Rapunzel, Cinderella, and many others, but in an original story, rather than an adaptation of any particular tale.
Story Categories
Main Comic: The main, "regular" stories.
Presents: Bonus content such as character Q&A and short side stories.
Smut: FOR ADULTS ONLY: Stories containing sexual content.
Coming soon.